3 Creative Ways to Use Video Backgrounds on Your Church Website
It has become commonplace to visit a website and see a video playing in the background. I mean, even Clover Sites had a video background four years ago. Am I saying we started the trend? No, but the Internet has jumped on the video background bandwagon. Interested but not sure how to start? Here are three creative ways to use video so your site will stand out online and reach visitors.
1) Use a Video Background to Highlight Community, Fellowship, and Location
For many visitors, the front page of your website will be the first thing their first impression of your ministry. You can utilize the video background to answer their first question: "Who are you?"
Creating a video that highlights your community, fellowship, and location is a great way to keep distracted eyes focused while showing them what they can expect if they visit. Remember, video backgrounds don't have sound, so you will want to tell the story of who and where you are visually in the video.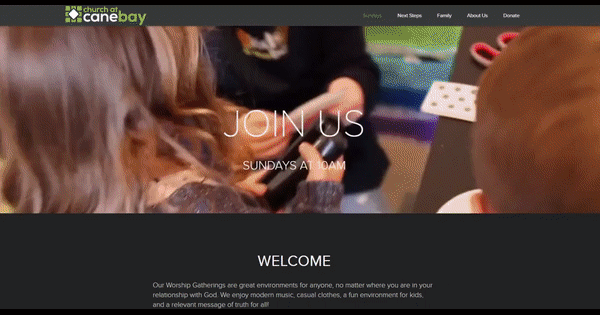 Check out how Church at Cane Bay placed their video background at the top of their first page. They've created a highlight video that shows you "who they are." You get a glimpse of their worship, fellowship, teachings, and children's ministry in a matter of seconds. They've also included the text body within the section that allowed them to add "Join Us Sundays at 10 AM." While site visitors are learning who Church at Cane Bay is, the also learn how they can join in.


2) Use a Video Background to Introduce Ministries and Activities
Another question asked by visitors is "What Do You Do?" A video background that highlights your ministries and activities can attract visitors looking for specific activities within your community.
Trinity Bible Church's high school page highlights their House Group Underground. Within a minute, site visitors see who is teaching, what they do at this event, and what it would look like to attend. Instead of static photos and paragraphs of content describing the event (which, let's face, a visitor might only skim), this video background gives a sense of their high school fellowship in a video that effectively communicates it.
3) Use a Video Background to Inspire Community Connection
When people are looking for a church, they are looking for where you are located and what you do in your community. A video background is a great way to cast a vision of how you are involved in your town or city and inspire engagement. You can even broadcast local outreach projects that you've done within your community. Seeing a church's faith lived out in the community will help a site visitor understand your local reach.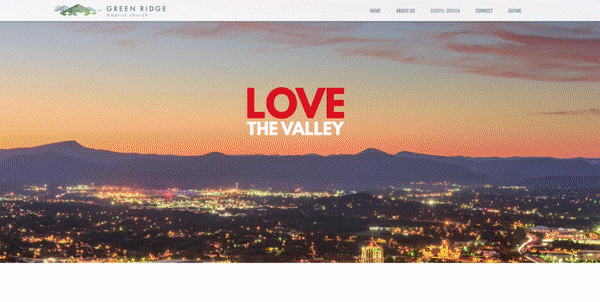 Green Ridge Baptist Church uses their Love The Valley page to project to display their city, their community, and even the weather, which invites site visitors and members alike to get involved. Events are listed nearby so viewers can immediately connect.