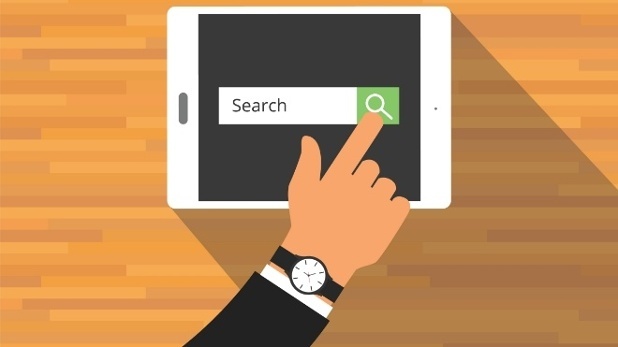 If you're looking for the "man behind the curtain" to help your church get found in the great, world wide web, we've got a secret for you. There is no one standing back there. The secret is SEO, or search engine optimization.
It's a simple idea: you want to be found by the people who want to find you. If you can be found without paid advertising, that's called "organic traffic" and it gives you the best placement in the search results page.
To help you get started we've put together some best practices for churches and how to improve their SEO.
SEO Tips for Church Websites
SEO Changes -- A LOT
It's important to realize that yeah, SEO feels like magic, but it's really based on math. And Google updates their math ALL. THE. TIME. It's what we love about them as the searcher, but it makes it a little bit of a lot of work as the thing being searched for.
Google is always adjusting their algorithms to provide the search results that will actually help the person most. Given the nature of web searching, it's a good thing really to have changing and updated search parameters.
Google used to base your page rank on "simple" things like how often particular keywords appeared on your page, then they began counting things like incoming links -- how many other people thought your content was worth seeing. Google has begun to deliver even better and more refined results as users search for more and more specific things.
Google now considers mobile friendliness, page load times, and "usage data" as they rank your page; if most of the people who searched for a phrase stay on a page, it's probably what they were looking for. Or, if they go straight back to try another search, that page was probably not what they were looking for.
You can't control what Google does, but we can help you get the best results for your church's search results...and help people find your website.
It All Starts with a Word
The first thing you have to do is choose what is called a "keyword." This is the phrase Google will use in your search ranking. It's related to the phrase people would type into the search box. Your church's keyword could be, "contemporary churches in Tallahassee" or "Des Moines Catholic youth group." You can get as broad or as specific as you'd like. However, keep in mind that if you just use the keyword, "church" it will be very hard to rank very high. Try to find a keyword that is a blend of specific and broad.
Strategic keywords can make a world of difference -- but they are not just for the search box. Use your keywords (aim for natural English and smooth usage!) in these areas on your site page:
In your page titles
A few times in the body content (no more than five times)
In the page header (that's the page Title on a Clover site)
On the meta description or page description (available in certain systems)
In image alt-tags and descriptions (available in certain systems)
Google will also increase your page rankings if you make your website mobile-friendly and by adding links to other websites that are relevant for the reader and your content. To test out how optimized your page is, you can request that Google does what they call a "crawl."
Church SEO will help your church's web page "rank" higher for the keywords and phrases that matter to the people who are looking to connect to a ministry like yours.
Localization
Ideally, you're trying to reach people who live near you and could actually come to your church. Google has already thought of that. They use a lot of localization data as they display search results.
If someone searches for "vacation bible school," they'll get results geographically near them, not from the mega church across the country. They'd be able to find a local church and sign the kids up right away.
How Your Church Should Localize
Localization is based on -- of all things -- your location. It's vital to help Google know where you are. Keep your contact information visible and "crawl-able" on every page of your website. Your address, phone number, and hours of operation (service times) should be clear and easy for people to find, but also on every page so Google can see how important that information is. We suggest putting this information in the header or footer. This also allows Google to provide a "snapshot" of your church's details.
If you can find a non-cheesy way to encourage your congregation to "review" your church, that can also be very helpful.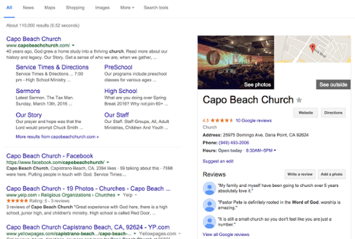 Reviews help your site visitors (and the search engine!) realize that your church is legit. Imagine searching "San Francisco churches," and you find one with several great reviews, and another church with none or only 1, which one are you going to click first?
You don't have to optimize all the pages on your website. Focus on the things people will search for "from the outside." That probably means the pages with church service hours and location, or your "New Here" page. After people have already found your website, they will use your internal navigation to find event registrations, small group lists, specific sermons etc. If you focus your optimization time and effort on these core pages, they will be found most easily by search engines.
Don't forget to verify your church in Google My Business. This way, anyone who searches for you will find the call-out box like this one here. This slideshare is really helpful, if you need a tutorial walk-through!
Church SEO Checklist:
That seems like a lot. And it is, but here's a check list to keep it all organized. Here's a handy list of the things to keep in mind as you optimize your church website:
Localized optimization
Keyword research to focus on long-tail, "low-hanging fruit"
Focus your content (words and media) around SEO rules AND keep it meaningful to the reader
Track the metrics of your results and tweak as necessary
Repeat, repeat, repeat
For some additional resources, check out our friends at Ekklesia 360: click here
Next Steps
Church SEO can be a robust part of your marketing and outreach plan and contribute to your church's growth and mission. Being found online is a great way to increase discipleship and member engagement, and bring more members into your church family. If you're looking for more ways to grow and drive movement in your church, you may be interested in a church website from Clover Sites.
A great church website can be a strong tool for your ministry––helping you drive giving and increase impact across many areas. CLICK HERE to start your free church website demo, today! Learn more about the magic and science of a great church website.