Why Does Being "Optimized for Mobile" Matter?
One of the phrases we often use when describing what makes Clover Sites stand out is "optimized for mobile" and today we thought we'd take a second to explain what we mean when we say that. These days, over a third of the visitors to your website will be browsing from their smartphone or tablet, so your site can't just simply work for mobile browsers - it needs to look incredible. Clover Sites isn't just compatible with mobile devices - its optimized - and that little change in wording makes a big difference. Here's why:
Natively Responsive
All websites from Clover are natively responsive, which means we've actually taken extra steps to make sure that the content on your site is specially formatted to not only fit comfortably on any screen but look great once it's there. One of the clearest examples of this is how your text wraps intelligently and actually changes sizes according to the device your using, so it fits mobile screens in a way that makes your text easy to read without being chaotic or intimidating.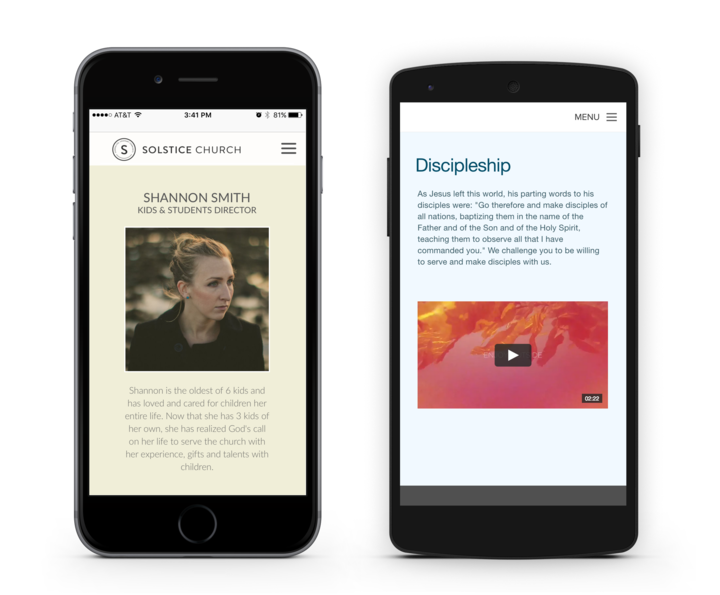 Unique Gallery Images
When you're creating a gallery or slideshow in your Greenhouse, there are special options you can use to give your mobile visitors a diverse browsing experience. After you add an image to your gallery, you'll be given the option to either resize your photo (to look better specifically for mobile displays), or allow the full image to be shown. Best of all, you can even add completely different photos to your mobile gallery to help set your mobile website apart from the desktop version and create a unique look and feel for different devices.
Animated Navigation
Our Bloom and Boulevard site designs both feature custom navigation menus on mobile devices that are paired with beautiful animation when opened. Mobile users visiting websites made with either site design will feel like they're actually navigating a custom app. Although Anthem, Solstice and Zion don't have navigation menus specific to their designs (their menus all share the same format), their nav is also accompanied with streamlined motion and looks great when opened.
Interactive Motion
We've tailored our browsing experience to fit the casual, at-your-fingertips style of mobile navigation we've all become accustomed to. You can easily swipe through slideshows and photo galleries, tap any link to be immediately redirected and scroll through any page with quick and fluid motion.
Things To Keep In Mind
As you can see, we've done a few things on our end to ensure that your website looks amazing on any device, so you have one less thing to worry about when you're in the middle of designing. However, there are a few things you should keep in mind when considering how your site will translate to smartphones and tablets:
When adding text to your website, try to take into account how the text will appear on a mobile display. Before, we said that your text automatically wraps intelligently for better mobile browsing. This means you should be careful to not use too many line breaks in your writing - these can make your the text look out of place on smaller screens.
Earlier, we covered how the mobile nav has been specially created to really stand out on smartphones and tablets. In order to keep this sleek look, we recommend you limit the number of pages on your website. Not only will this make all of the page options fit on any screen comfortably, it will also make your website easier to navigate (on any device). Remember, you can add as many subpages to any page as you need!
We know that some images look better on mobile devices than others. That's why we give you the option to add completely different photos to your mobile gallery sections. This way, no matter how your photo gallery is being viewed it will always look right. So don't feel like you have to limit your mobile site to look identical to the desktop version.